Course details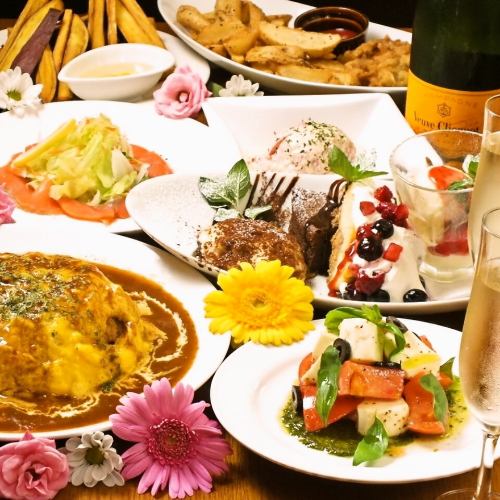 【Yumeikogiki Girls Association】 All-you-can-drink for 2,5 hours + 2,500 yen for 7 meals! Popular! Homemade Sangria drinks as you can!
By using a coupon2500 Yen
(Excluding tax)
7items

2

-

50persons

All-you-can-drink available

☆ 48 kinds of beer, sour, cocktail, fruit liquor, shochu, whiskey, wine etc. All you can drink
【Women's Association】 Meals are seven popular menu items for women! ★ Popular home-made sangria is all you can drink! Time is relaxing 2, 5 hours! Price at this lineup \ 2500! Girls' meeting plans full of premium benefits packed !
Course menu
● Fresh green radish salad
~ Radish with radish, shrimp, scissors match best! ~
● Fluffy cream cheese
~ Taste of cream cheese made by spending time is a dream come true! With whole grain crackers ~
● Scissors Asparagus
~ Summarized the flavor of asparagus and the taste of scissors with original sesame dressing.~
● Sweet potato stick
~ Popular menu with No.1 repeat rate! Hot potato with honey butter.~
● pizza of raw ham
~ Popular pizza with outstanding beer compatibility! ~
● Main
· Angel's Omurise · Demiglas sauce
~ The popular No.1 menu that is known ~
● Today's Dolce
~ es original homemade dolce.Come and taste homemade! ~
All-you-can-drink menu
· Beer & cocktail vias
· Super Dry / Asahi Blackish / Half & Half / Shandigerf / Red Eye
·sour
· Oolong Hi / Green Tea High / Lemon Sour / Grapefruit Sour / Hakomoroshi Orosashi Sour / Calpis Sour
·Cocktail
· Gin tonic / Jin back / Jin Lime / Screwdriver / Moscow Kool / Cassis orange / Cassis grape / Cassis oolong / Fuzzy group / Reggae punch / Calamilk
·Fruit wine
· Plum wine / apricot sake
· Japanese sake & shochu
· Cold Sake / Wheat Shochu / Potato Shochu
·whiskey
· Ballantyne · Finest
·wine
· Montepulciano 【Red】 Trebiano 【White】 Sangria 【Red】 Sangria 【White】
·Soft drink
· Coca Cola / Ginger Ale / Oolong Tea / Orange Juice / Grapefruit Juice / Pine Juice / Calpis Water / Lemonade
Available days for reservation

Monday - Sunday - Public holidays - Holidays
Coupons that can be used with this course
2018/11/18 update